What is BIM?
BIM (Building Information Modeling) is the process of creating a model of a building and embedding into it all of the data regarding that building.Software for the BIM process must facilitate the representation of the physical and intrinsic properties of a building as an object-oriented model tied to a database. The most useful BIM authoring software has a rendering engine to enable visualization of model components. The user can view and interact with the model in three-dimensional (3D) views as well as orthographic two-dimensional plans, sections and elevation views of the model. As the model is developed and edited, all other linked drawings within the project are updated.
Why is BIM needed? From 1964 to 2002, construction efficiency declined despite the widespread use of new technologies in the 1980s and 1990s, including fax machines, cell phones and computer-aided design. The building industry was booming, yet even sixteen years ago, it was estimated that the cost to the construction industry due to inefficiency was over $15-billion a year, primarily due to waste and rework. For decades there was a disconnect between the building designers, the contractors and the operators.
Since 2000, the purpose of BIM is to remedy that disconnect. Between 2000 and 2016, the power of BIM in the construction industry was the "reduction of duplicated efforts." Architects began coordinating with engineers, who began coordinating with contractors. If something clashed, if something needed to be moved, the changes could be made in a BIM environment before costly mistakes were made without affecting the cost of the project. The benefits of BIM increase over time. According to an HOK Architects presentation at BIMForum in 2014, for every $1 spent on design, $20 is spent on construction, and $60+ is spent on building operation.
Introduction to Revit
Revit® is software built specifically for the BIM process.
Revit enables the user to create a dynamic database model which is tied to geometry, with constraints on connected features that adjust parametrically. With the advent of Revit, architectural firms could change elements once in a project, and have that change ripple through all affected views of the model.
Revit supports a multidiscipline design process for collaborative design, including features for  architecture, MEP, structural engineering, and construction. The powerful tools in Revit provide an intelligent model-based process to plan, design, visualize, construct and manage buildings and infrastructure. As a collaboration tool, Revit is used by each discipline with the unique perspective of completing that discipline's task. Revit revisions are assigned to clouds and numbered on sheets.
Design – Model building components, analyze and simulate systems and structures, and iterate designs. Generate documentation from Revit models.
Visualize – Communicate design intent more effectively to project owners and team members by using models to create high-impact 3D visuals.
Collaborate – Multiple project contributors can access centrally shared models. This results in better coordination, which helps reduce clashes and rework.
Since 2016, BIM has been about the modeling of information, not just geometry. BIM is no longer just about sketching, clash detection and modeling. It's now about modeling of buildings in 3D, facilities, and even geo-location of buildings. Looking to the future, Revit is also a key component in the emerging field of BIM for generative design.
Revit software produces consistent, coordinated and complete model-based building designs and documentation. It automatically updates floor plans, elevations, sections, and 3D views. It uses 3D visualizations to see a building before it's built.
Add-ins – Revit functionality can be extended with access to the application programming interface (API), enabling third-party solutions, add-ins, and a content library on the Autodesk App Store.
Annotation – Designs can be communicated more effectively with WYSIWYG (what you see is what you get) editing and features that allow the user to control text appearance.
Dynamo – BIM workflows can be expanded and optimized with an open-source visual programming interface that installs with Revit.
Global parameters – Embed design intent with project-wide parameters that work with radial and diameter dimensions and equality constraints.
Interoperability and Industry Foundation Classes (IFC) – Revit imports, exports and links a project's data with commonly used formats, including IFC4.
Parametric components – All building components designed in Revit have an open graphical system for design and form-making.
Schedules – Properties of a project's elements and model information can be displayed in tabular form.
Worksharing – Contributors from multiple disciplines can share and save their work in the same centrally located file.
---
Architectural design
Conceptual design tools – Sketch and create freeform models and create massing studies.
Analysis with Insight – Optimize building performance with centralized access to performance data and advanced analysis engines.
Architectural modeling – Add architectural elements to the building model, including walls, doors, windows, and components.
Point cloud tools – Connect laser scans directly to the BIM process to author an as-built model.
3D design visualization – Explore, validate, and communicate designs. Render more quickly and accurately.
Multistory stairs – Quickly create and modify multistory buildings by connecting stairs to the levels in the project.
Cloud rendering – Produce photorealistic visualizations without tying up the user's desktop or using special rendering hardware.
---
Structural engineering and fabrication
Physical and analytical models – Revit creates a physical model for coordination and documentation and an associated analytical model for structural analysis simultaneously.
Reinforcement detailing – Create 3D reinforcement designs for cast-in-place and precast concrete structures. Produce reinforcement shop drawing documentation with rebar schedules.
Structural steel connection modeling – Model connections with a higher level of detail using a variety of parametric steel connections in Revit or by creating custom steel connections.
Structural documentation – Create accurate and detailed structural documentation of multi-material designs.
Bidirectional linking with analysis – Integrate analysis results into the BIM process and work in an iterative design workflow.
Linking with concrete fabrication – CAM Export connects both cast-in-place and precast concrete projects with automatic fabrication processes.
Dynamo for structural engineering – Dynamo gives structural engineers, designers and detailers tools to build structures with minimal energy and make custom design tools.
Linking with steel fabrication – Interoperability between Revit and Advance Steel helps provide a seamless BIM workflow from steel design to fabrication.
---
MEP engineering and fabrication
HVAC design and documentation – Design complex duct and pipe systems to express intent, and model duct and pipe systems with mechanical design content.
Electrical design and documentation – Design, model, and document electrical systems. Keep track of electrical loads throughout the distribution system.
Plumbing design and documentation – Create sanitary plumbing systems with sloped piping and layout piping systems to design and document intent.
MEP fabrication detailing – Create fabrication-ready models in Revit. Model and coordinate MEP level-of-detail (LOD) 400 components.
Advanced analysis – Optimize building performance with centralized access to performance data and advanced analysis engines.
Fabrication service conversion – Convert design-level model elements to construction LOD elements.
Fabrication documentation – Document model layout more effectively. Document, schedule, and tag fabrication elements.
---
Construction
Modeling – Derive construction insight from design models. Split and manipulate wall layers and concrete pours; prepare shop drawings for fabrication.
Coordination – Upload Revit models into BIM 360 for collaboration with project partners. Access project documents via mobile apps.
Navisworks interoperability – Coordinate a model between Navisworks and Revit and  coordinate designs with partners who use different software.
Import/Export 2D sheets – Bring AutoCAD files in or out of Revit, and prepare sheet sets for export to fabricators, subcontractors and other project stakeholders in the format they need.
Constructability details – Augment design intent models with the detail necessary to meet the requirements of construction teams.
Fabrication for structural engineering – Link to Advance Steel for steel detailing and fabrication to help accelerate design-to-steel construction.
Fabrication for MEP engineering – Convert design LOD model elements to fabrication LOD elements for detailed coordination, fabrication and installation.
---
The Revit work environment allows users to manipulate whole buildings or assemblies (in the project environment) or individual 3D shapes (in the family editor environment). Modeling tools can be used with pre-made solid objects or imported geometric models, although Revit will not manipulate an object's individual polygons except on some specific object types, like roofs, slabs and terrain.
The three categories of Revit objects (families) are:
System – such as walls, floors, roofs and ceilings, built inside a project.
Loadable components – built with primitives (extrusions, sweeps, etc.) separately from the project and loaded into a project for use.
In-place – built within a project with the same toolset as loadable components.
Photorealistic render in Revit + other software
An experienced user can create realistic and accurate families ranging from furniture to lighting fixtures, as well as import existing models from other programs. Revit families can be created as parametric models with dimensions and properties. This lets users modify a given component by changing predefined parameters such as height, width or number in the case of an array. In this way a family defines a geometry controlled by parameters. Each combination of parameters can be saved as a type, and each occurrence of a type in Revit can also contain variations.
When a user creates a building model or any other kind of object in Revit, they may use the Revit rendering engine to make a more realistic image of what is otherwise simply a diagrammed model. This is accomplished by either using the predefined model tools for walls, floors and materials or customizing them. The built-in materials can be modified to the user's needs by setting the rotation, size, brightness, and intensity of textures; and six types of "maps" – shine, transparency, oblique reflection, regular reflection, hole, and bump. There is also a slider feature for any of the texture features.
For more advanced rendering and animation, Revit models may be imported directly into Autodesk 3ds Max or a variety of third-party rendering engines and virtual/augmented reality platforms. Cloud-based rendering allows for the user to render images through an Autodesk account instead of on the local computer, freeing it up for other tasks. The user may import PDFs into Revit as described in the Applied Software blog on that process.
---
Installation & Purchase
---
The following are general instructions for Autodesk Software Installation
Purchase your software
Learn about purchasing methods and managing transactions.
Prepare for installation
Get ready for a successful installation of your product.
Gather information and get your computer ready
Determine whether you need an activation code
Download your software
Get guidance on the best download methods for your installation type.
Where to download products and updates
Configure and install your software
Install and run your software.
Get products in a different language
Manage your software
Learn how to convert a trial to a subscription, update or remove software, and complete other common tasks.
View your product license information
Convert a trial to a subscription
Get a product key
Use an interactive tool to look up product keys, which you need for installation in some cases.
---
How to Install Revit
The following are specific to Revit 2019
Learn how to install and configure Revit and Revit LT on stand-alone computers.
For information about using deployments to install Revit on multiple computers across a network, see Revit Deployments.
Parent topic: Revit and Revit LT Installation
Related Concepts
See the full article here.
---
How to Purchase Revit
Revit is part of the Architecture, Engineering & Construction Collection, offering you a full suite of tools to connect your BIM workflows from end to end.
Whether you choose Revit on its own or as part of the collection, you can subscribe by the month, the year, or however long you need it.
Want to make us your Autodesk Reseller of Record? You can do that here.
---
Purchase Revit as Part of the Autodesk AEC Collection
Integrated BIM tools for building design, civil infrastructure, and construction. Whether you work in building design, infrastructure design, construction, or a combination of these industries, the AEC Collection provides an essential set of tools at a great value.
---
Included in the AEC Collection:
Advance Steel
Autodesk Drive
Autodesk Rendering
Dynamo Studio
FormIt
Insight
ReCap Pro
Revit Live
Structural Bridge Design
---
Common Revit Challenges
Avoiding Model Corruption and Data Loss
Because Revit projects are so large, and because in many cases most, if not all, of a project's Building Information Model is contained within a single file, the consequences for poor practices can be much more damaging than with other applications and workflows. Project work can be frustrating and stressful when Revit models are bloated, corrupt, and difficult to navigate. Unlike an AutoCAD drawing, if the Revit project is corrupt, the impact is more serious. Even with a backup copy that is not corrupt, several people may have worked in the project since that backup, and all of that work could conceivably be lost. Aside from corruption, there are ways of speeding up a model, automating and standardizing view management and finally, "best practices" for keeping workshared models running smoothly restoring the user's productivity.
Model Corruption
Corruption from poor practices in Revit can build gradually until suddenly the model becomes problematic or inaccessible. Even experienced users sometimes do not follow or even know about "best practices."
There are also poor practices that, while they may not cause actual file corruption, can cause problems with other disciplines and "downstream" users. These can have a negative impact on the project as a whole, resulting in coordination issues, budget overruns and failure to meet critical deadlines.
---
Linking Files
While the use of CAD files is supported by either importing them or linking them into a project, it is never a good idea to import CAD files and leave them in the project. The impact on performance is pronounced, and the opportunity for corruption to be introduced to the project grows with each imported CAD file. Even worse is to explode an imported CAD file, because now instead of a single object that can be removed from the project easily, there are hundreds, if not thousands of little "CAD bits" in the project, and it can be virtually impossible to eliminate all of them. There are challenges on moving from AutoCAD to Revit. Instead, CAD files should be linked into the project. When they are not necessary, they can be unloaded, removing the drain on performance, and reloaded again when they need to be referenced again. When finished, they can simply be removed as though they were never there.
While it is possible to convert an AutoCAD standard detail by importing it, then exploding and converting its geometry to native Revit geometry, it's easier and usually much faster to link the CAD detail into a Revit project, trace over the AutoCAD geometry with Revit lines, filled regions and text, and then remove the AutoCAD link.
Warnings
In general, there are two kinds of warnings and error messages in a Revit editing session.
With an "action-required" message, there is no possibility of work proceeding until the error is acknowledged, and in most cases, an option is chosen to resolve it.
The other kind of message is potentially more dangerous, because it can appear at first glance to be benign. The message will appear in the lower right corner of the Revit screen and can be dismissed with no further action obviously required. Revit does not require the user to take immediate action and allows work to continue. These warnings should be dealt with as soon as possible. If they are allowed to build up in the project, the user will experience noticeable degradations in performance. If errors are not resolved whenever possible, it's almost guaranteed that performance issues will be experienced before the project is complete.
Allowing too many of these errors to build up in the project will cause the database of errors to grow to the point where selecting and editing objects becomes more and more time consuming. Revit must take more and more time scanning the database to check for errors associated with each object selected. If there are 100 or 200 errors, it's not noticeable. If there are thousands of errors, it can be painful.
The user needs to determine if a warning is benign or not, and if not, take steps to resolve it if possible. Unresolved errors can be reviewed by clicking the "Warnings" tool on the "Manage" tab of the ribbon. To determine what is wrong and how to fix it, there are online resources that can be used to decipher Revit error messages; one source is in the Autodesk Knowledge Base:
https://knowledge.autodesk.com/support/revit-products/troubleshooting/caas/sfdcarticles/sfdcarticles/Revit-How-to-understand-and-address-warnings.html
While it is not realistic to expect to be able to resolve every warning that will occur during the course of a project, the goal should be to have as close to zero warnings as possible.
---
Backups
Revit creates a backup file every time the user saves. Backups are saved with a numerical index as a suffix to the original filename: <filename>.<four digit index>.rvt. In order to save disk space, some users are tempted to limit the number of backups that Revit will create. The default number of backups in Revit 2019 is three. Consider leaving the number of backups at least at the current value of three (and consider increasing it). The more backups available, the more opportunities to recover from a fatal error that prevents the model from being opened again. If disk space is a concern, consider, what is more expensive, disk storage space or project data? The number of backups can be set when performing a "Save As."
Modifying Objects
Revit users may delete an object, only to replace it with the same category of object with a different family or type. This can cause ripple effects downstream. Every Revit object has an element ID. Downstream applications may be referencing that ID for some purpose, and if it's replaced by a different element with a different element ID, confusion and coordination errors could result. For example, the architect may have placed a ceiling in the model with a MEP engineer's light fixtures attached/hosted to it. If the ceiling is replaced rather than modified, the MEP engineer's fixtures will be "orphaned" and must be re-hosted. When modified, the original element ID is retained and hosted elements remain hosted to the newer version of the ceiling.
---
Shared Coordinates
There are multiple workflows for working with sites and buildings and multiple workflows around shared coordinates. However, the two constant best practices for working with site models, building models (especially multiple buildings on a single site) and civil engineer/survey data are:
Use Shared Coordinates.
Keep the site model and the building models separate.
When working with a site model based on a civil engineer's CAD file, it needs to be coordinated with the building model to ensure that downstream consultants who need to link the architectural model into their models will be able to do so without issue.
The process looks like this:
Use a template with a single level, for instance "Sea Level," at elevation 0'-0", and a single site plan view with the view range set to accommodate anything up to 5,000' elevation.
Link the civil engineer's CAD file into the site model using "Origin to Origin" or "Center to Center" as the placement option.
Do not move the Revit project to accommodate the site drawing. Instead, move the site drawing to accommodate the Revit model's coordinate system.
Move the site drawing in the plan view so that it is more or less centered on the Revit project's origin (the Project Base Point). Then "Acquire Coordinates" and select the site drawing. The Survey Point will be placed at the location of the origin of the site drawing, and the Project Base Point has remained unchanged, leaving two coordinate systems – one relative to the "real world" (the site) and one local to the project.
The building model from a separate Revit project can be linked into the site model using "Origin to Origin" positioning. It can be positioned and aligned on the site. Once the coordinates are published, the coordinate system was acquired from the original CAD file will be published to the building model. The site and building models will both be sharing the same coordinate system.
By keeping the building and site located near the Revit Project Base Point, downstream consultants such as MEP engineers, structural engineers and others can link the building model into their projects using "Origin to Origin," and the model will be immediately visible to them. They can then use the "Acquire Coordinates" tool to use the same shared coordinate system. Once all consultants have acquired coordinates, their models can be linked back into the building model and the models of all other disciplines using the "Shared Coordinates" option[MD1] . This screencast video by Applied Software Architecture and Engineering Services Director Matt Dillon illustrates the entire process.
---
Performance
In the following video, Matt Dillon covers a host of new features and performance indicators from Revit 2020.
Following best practices can dramatically improve performance and file size. There are several features and capabilities of Revit that should be used with discretion. Over-using them or using them inappropriately can negatively impact performance and unnecessarily bloat the file. For best performance of Revit, refer to the hardware system requirements for the 2019 version and the 2020 version.
Level of Detail
One of the most common mistakes by new Revit users is to "over-model." This can quickly cause the model to become inordinately large with time spent on minutiae that provides little or no payback. It is not always appropriate to model an object when it can adequately be shown in 2D geometry and would not normally show at the scale of your plan, section and elevation views.
In a commercial project for example, with a floor plan scale around 1/8" = 1'-0", if something would not normally be seen at that scale, weigh the consequences of spending time modeling it versus the benefits and payback. Sometimes it might be a better idea to show it using 2D detailing tools instead.
While calling out details and placing them on sheets is appropriate, the user may want to forego developing them until the project has progressed to the construction documents phase where major design changes should be few. The detailing and drafting tools are annotative in nature, not bi-directionally associative.
---
Families
To optimize performance, limit the use of in-place families to those conditions that are truly unique and will not be repeated. If there is any chance at all that the object may be reused, it should be created as a component family. When an in-place family is copied, it creates an entirely new entity each time, while multiple instances of the same component family will all reference the same definition.
Limit the use of extremely detailed, nested or heavily parameterized "super" families to cases where they are truly needed. Multiple "non-parameterized" families can frequently be used to represent different types of the same object with just as much efficiency (and more ease of creation). Parametric families can put a greater computational burden on the model.
Avoid the overuse of voids, arrays and formulas in families, and consider the use of symbolic lines and masking regions in a plan view when 3D is not necessary. Also avoid cutting the host when a family can be shown/hosted on the face so penetration calculations are reduced.
Constraints, Groups and Design Options
Just because something can be constrained doesn't mean it should. Placing constraints in a model impacts performance and builds additional "rules" that can conflict with future modeling operations.
Groups can be extremely useful when working with repetitive assemblies in a model, but they can impact performance and file size. In some cases, a family definition might work better than a group. When groups are appropriate, ensure that group definitions are current and unused definitions get purged. When performing an array, if it doesn't need to be grouped, unselect the default "Group and Associate" option.
Design Options are a powerful tool for exploring alternatives to parts of a project. But if too much is included in the options, it's possible to end up with virtually two different projects in the same file. In that case, separate Revit projects might be more appropriate until one option is selected.
---
Dividing
There is much to be gained by keeping the building model in a single file; however, there are times when the sheer scope of a project means that the file size will become overly large. In those instances, consider breaking the project up. If a project must be separated into multiple files, the sooner the better. Typical break points for a project include:
Separate buildings (should be separate files regardless of size)
Building core/building shell/interiors
Expansion joints
Individual towers
Parking structures
Templates
A well-developed template is critical to the effective use of Revit. Standards such as line weights and line patterns, annotation symbology, and discipline-specific settings are stored in the template, as well as graphic properties of standard views. However, avoid overloading the template with unnecessary component families just to make them easily accessible. To keep file size down, keep the component families in a well-organized library.
---
File Size & View Management
Poor view management can lead to errors and many hours spent performing tasks that could easily be automated. Of special note are Revit view filters and Revit view range.
Hiding
The most common way to hide elements in Revit is to hide an entire category by toggling it off in a view's Visibility/Graphics Overrides settings. Individual elements can be hidden, but if other users are not aware of them, they could unknowingly add them in a second time. There is a "Temporary Hide/Isolate" tool that can alleviate this dilemma by placing a cyan border around a view that contains hidden objects. The temporary hide only lasts until the file is closed.
View Automation
Using View Templates will automate the setup for standard views and can also ensure that critical plotted views adhere to standards and have a consistent appearance from one view to the next. They can be applied to a view or assigned to a view. If applied, the properties stored in the template are applied to the view, and there is no further connection or link between them. The view's properties can be modified independent of the template.
If a template is assigned to a view, the properties stored in the template can no longer be changed independently; they must be changed by editing the template. Changes to the template will immediately modify any and all views with the template assigned to them. This is helpful in plotting when views need to adhere to company standards. Consistency is ensured across all views. If a change needs to be made to the standard, the template simply needs to be edited.
Using view types can automate view management and make the navigation of the Project Browser more efficient. When a view type is created, a view template can be specified to either be applied or assigned to the view at the same time. The view will have the desired view settings established immediately, and views will be sorted more logically in the Project Browser.
.
---
Worksharing
---
When working in a collaborative environment, there are some specific do's and don'ts for Revit worksharing and worksharing display.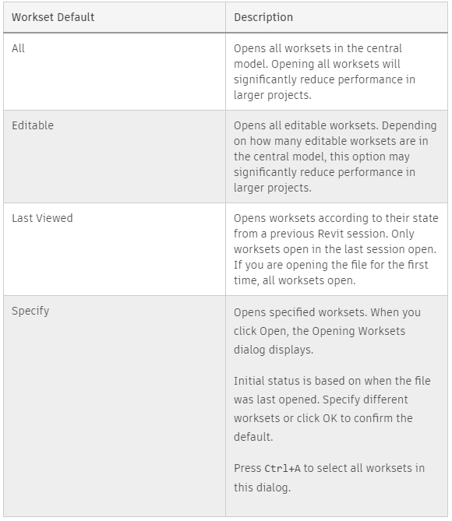 Backups
While the default maximum number of backups for a normal (non-workshared) file is three, a workshared file, whether local or central, will have 20 as a default. This should not be limited much, because the more recovery options, the better.
Ownership
With a workshared file, users can choose to make entire worksets editable or simply borrow objects on demand. Making a workset editable means that user "owns" every object in that workset. Other users must ask for permission to edit anything, and the owner must grant or deny those requests. The end result is a lot of time spent managing worksets and editing requests and less time spent getting work done. If worksets are uneditable, objects can still be edited by simply selecting and editing as normal. Revit will automatically check them out to the user as a borrower as long as nobody else is editing them. When the model is synchronized to the central file, the borrowed objects are relinquished back to the central file by default, so others can edit them. In this way, Revit manages the ownership of objects.
If checked out or borrowed objects are not relinquished when a user exits Revit without saving his/her work, nobody will be able to edit those objects until the file is reopened and ownership is relinquished.
Autodesk has a suggested workflow for working "off line" that includes keeping ownership of elements when exiting the file. But since this is even referred to as "working at risk," it's not a recommended option. Cloud worksharing or using a VPN are better options for working remotely.
---
Central File
If the location of an existing Central File must change from one folder or server to another, it must be done without breaking the links between it and the local files. "Detach from Central" is the best option, where existing worksets can be preserved. Once it has been saved to the new location as a new Central File, project members can create new Local Files from it.
As an added bonus, this short interactive video explains the steps to make dedicated view for showing the worksets within a project in different colors. Click around and let us know what you think!
---
Maintenance
With multiple backups, worksharing provides multiple recovery options in the event of a corrupt project file. On the other hand, performing simple maintenance on a weekly basis can go a long way towards reducing or eliminating corruption to begin with. To perform the Central File maintenance, other project members need to be out of the project. The Central File is opened, purged of unnecessary groups, families and types if needed, and saved to a new Central File or over top of the original while being compacted. New local files are then created.
Worksharing
When working on a project that is being hosted in BIM 360 Design or BIM 360 Teams, the normal maintenance described above cannot be performed. Nor can the "Restore Backup" tool on the "Collaborate" ribbon be used as with a locally shared project. To ensure that backups exist that can be restored in the case of a catastrophic failure, you should publish the cloud workshared file regularly – every day or at comfortable intervals from a data-recovery perspective (how much work are we willing to lose?).
When working in a cloud model, the Central File is synchronized and saved locally just as with a normal workshared model. However, when synchronizing to a Central File hosted in the cloud, it does not update the visible model in BIM 360 Design. The live "synchronized" model that Revit users are working on is not exposed in BIM 360 Design. Because it is not exposed, there are no previous versions to restore in the case of a failure.
The Revit cloud model needs to publish and increment the version that is exposed in BIM 360 Design. After publishing, BIM 360 Design will take a few minutes to process the model, after which the file version will be incremented and the viewables updated according to the views specified in the publish settings.
If a previous version needs to be restored, all users need to be out of the project in Revit. In BIM 360 Design or BIM Collaborate Pro, the desired previous version needs to be made "current" then reopened in Revit.
Revit files are typically inherently stable. However due to the large amount of data and the fact that in many cases an entire project is in a single file, poor modeling practices and lack of discipline on the part of any user can cause problems for the entire team.
While attention to the details of avoiding model corruption and data loss may require a certain amount of self-regulation, it goes a long way towards making Revit projects more trouble-free and productive.
---